So what's the story with tea baskets?
It is typical in a Berber household of the Atlas villages for men to go out to the fields tending sheep or farm. So what would you do if you have to bring them a cuppa? You make a basket!! That's right! One that can hold the glasses and teapot and also some snacks! However, if you don't have any tea to take to the fields they are perfect as fruit or bread basket, to hold your knitting wool and all that bits and bobs!!
Shop Tea Baskets
Lions, flying lizards, flying horses, chickens...
...what's all that about?
Although Christianity is the dominant religion of the Sumbanese,many combine their faith with animise practice. They believe a person is able to acquire the spiritual powers and qualities of certain creatures when textiles displaying such motifs are worn. 
Find out what all the motifs mean in our Sumba Stories!
Sumba Stories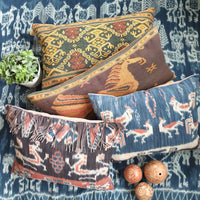 Traveling-
it leaves you speechless, then turns you into a storyteller - Ibn Batuta
Testimonials
The seller is a wonderful lady who frequently updated me on the process of delivery and the quality of cushion is brilliant.

So beautiful! I can't wait to give this to my Ibu!

-Vintage Batik Cushion

Kat Maw
Very very beautiful The communication was excellent and the shipping very fast. The wedding cloth looks as beautiful as on the photos. Everything was perfect and Wani is highly recommended! Thank you!

-Mali Indigo Cloth

Maike
Gorgeous item. Absolutely delighted with this. Thank you so much for the prompt delivery and the parcel was beautifully packaged. Thank you!

-Moroccan Berber Bread Basket

Anna